The New Forest Tour returns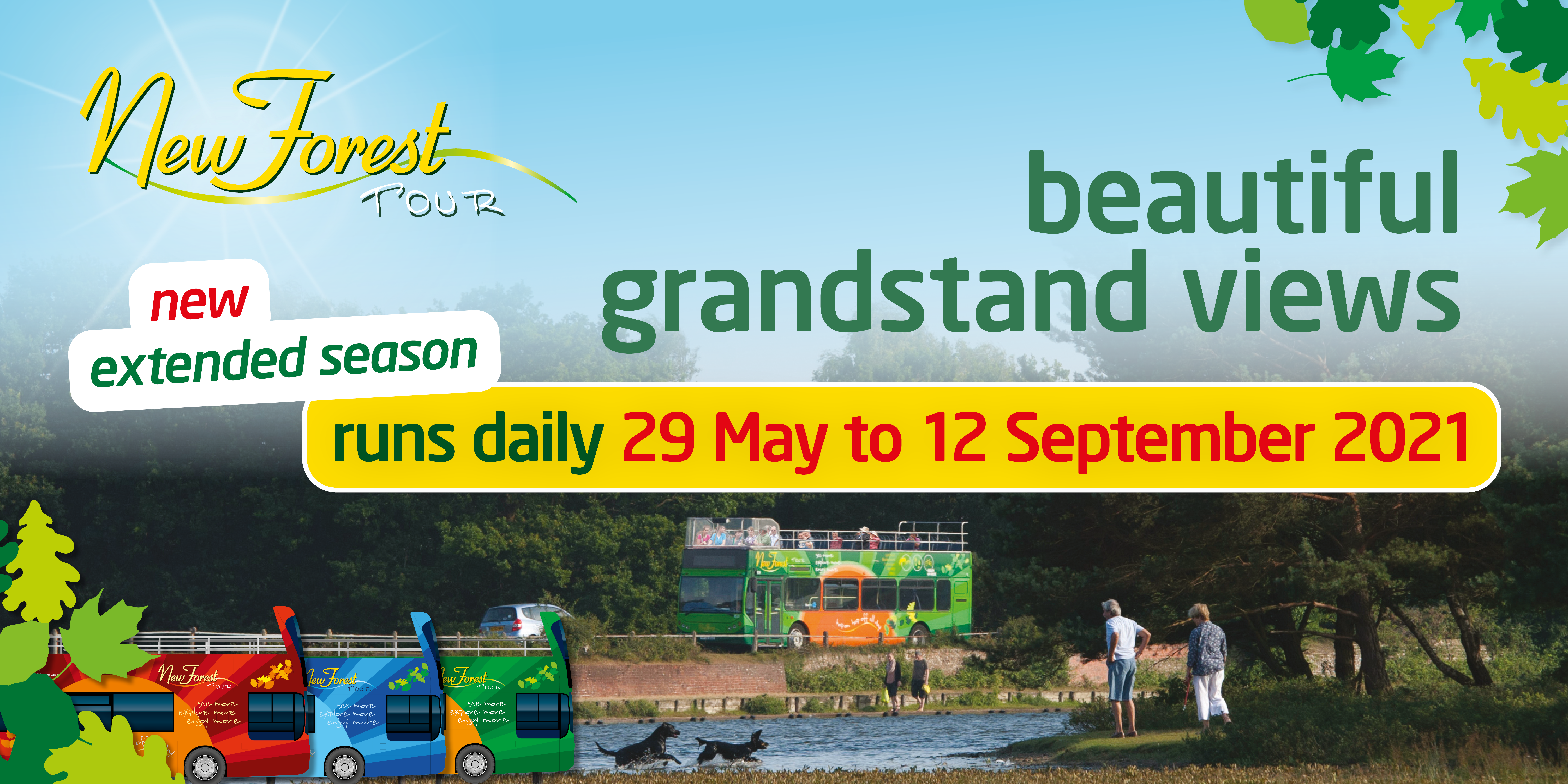 Visitors to the New Forest will soon have the chance to enjoy the very best views of the National Park thanks to the return of the popular New Forest Tour.
With demand expected to be higher than ever, in partnership with the New Forest National Park Authority - we are are running an extended season to help support the local economy and reduce traffic and carbon emissions and protect the National Park's fragile landscape.
From Saturday 29 May to Sunday 12 September, the open-top bus service will provide visitors and those lucky enough to live in and around the National Park with a spectacular, panoramic perspective of the area's beautiful countryside and coast.
As well as grandstand views, the Tour is the easiest way to learn more about the Forest and how to care for it. Passengers can sit back and enjoy an audio commentary about the area's culture and history, as well as discounts at the National Motor Museum at Beaulieu, the New Forest Wildlife Park, and local businesses participating in the Go New Forest discount card scheme.
The New Forest Tour is a key part of the Authority's aim to encourage more people to leave their cars at home and is kindly sponsored by local businesses. The Tour is easily accessible by train, stopping outside Brockenhurst train station, which is on the main south coast rail line, and also at Lymington and Ashurst. It also passes local cycle hire centres within the Forest, with each Tour able to carry up to three bikes, giving access to the area's country lanes and 100 miles of waymarked cycle tracks. With many stops located near camping and caravan sites, it enables their visitors to have car-free days across the Forest.
"After a difficult year for us all, we are expecting a large number of people to choose the New Forest as their "staycation" destination," said Morebus and Bluestar managing director, Andrew Wickham.
"This is wonderful news for the area's tourism industry, and for the New Forest's retail and hospitality businesses. Our team is very much looking forward to helping people enjoy privileged views of the National Park's many gems - from wandering ponies and quaint villages to the dramatic purple heathland and sparkling blue coastline.
"We have worked very hard to ensure our buses are ready, with some changes in place to follow government guidelines. There are stringent cleaning regimes, with special focus on "touch points", where we use anti-viral wipes."
People travelling on the Tour are asked to wear face coverings, unless they are medically exempt. Drivers are protected by specially designed screens, and seating is arranged to allow for social distancing.
New Forest National Park Authority chairman Gavin Parker added: "Covering the length and breadth of the National Park, the three scenic routes saved an estimated 61,800 private car miles last year, even on a reduced operating schedule. The Tour also provides a boost to local businesses.
"Last year, it contributed an estimated £274,800 to the New Forest economy while stopping at local villages and attractions."
"We're grateful for the support of local businesses and Forest organisations, ena-bling the Tour's operation. It's one of the ways we're addressing the climate and na-ture emergencies locally, allowing customers to leave their car behind and travel for free on either Hythe Ferry or a connecting bus service to access the Tour. Multi-day tickets are great value, and the flexible hop-on, hop-off aspect gives lots of freedom of choice."
All three routes - green, red and blue - will run to their normal timetables, with some minor exceptions. The green route will also travel via Applemore Tesco to allow for connections with Southampton's Bluestar 8 and 9 bus services. Tickets can be purchased online at thenewforesttour.info, in the morebus app, or or from the driver.
The Tour is sponsored by Beaulieu National Motor Museum, New Forest Wildlife Park, Paultons Park, Portsmouth Historic Dockyard, Exbury Gardens, New Forest Adventure Golf, Sandy Balls Holiday Village, New Forest Heritage Centre and Burley Fudge.
In addition, the following organisations have supported the Tour with an advert about reducing animal accidents while driving through the Forest: Verderers of the New Forest, New Forest Commoners, Hoburne Ltd, ExxonMobil, New Forest Trust and Camping in the Forest.
Visit the New Forest Tour website for timetables and more information