Ashley Road resurfacing diversions
3 weeks ago Wed 10th Feb 2021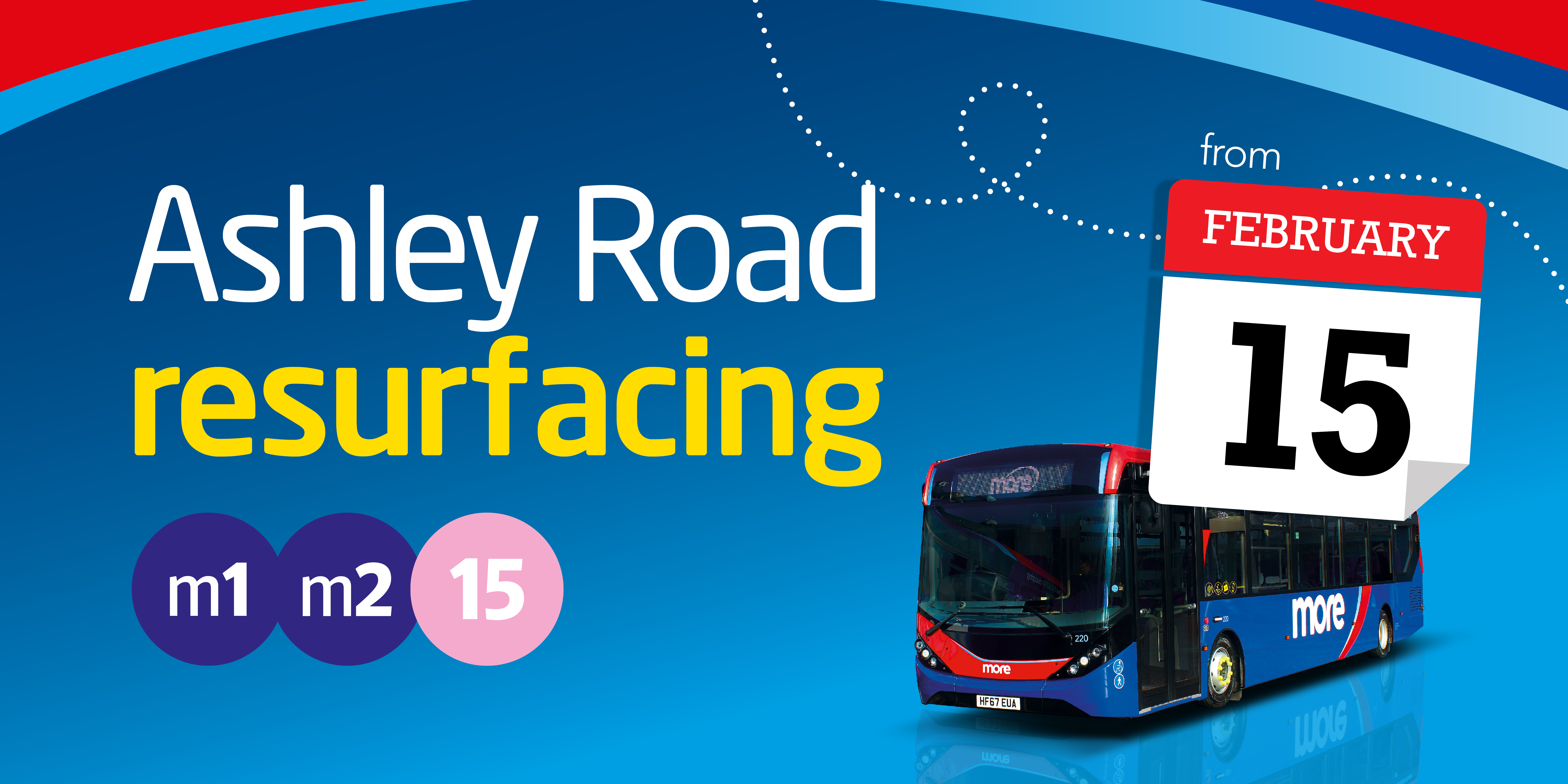 Due to a progression of the gas main replacement works, and resurfacing along Ashley Road, our services m1, m2 and 15 will be subject to diversions from 0700hrs on 15/02/2021 until 1800 on 18/02/2021.

Richmond Road will reopen. But routes m1, m2 and 15 will not be able to serve stops in either direction between The Alder Road Roundabout and Upper Parkstone Co-Op.
m1 towards Branksome and Castlepoint will operate its normal route along Richmond Road and then serve Ashley Road (St Johns Church) and back along Richmond Road in the wrong direction then will divert along Bournemouth Road before continuing its normal route at Branksome.
The m2 and 15 towards Branksome and Southbourne/Bournemouth Hospital will operate their normal routes to St Johns Church before diverting via Richmond Road and Bournemouth Road, and will continue their normal routes at Branksome.
m1, m2 and 15 towards Poole will all divert from Branksome via Bournemouth Road and Richmond Road. m2 and 15 will pick up their usual route opposite St John's Church on Ashley Road, outside Waitrose. m1 will stop in Salisbury Road and then head back down Richmond Road serving all three stops towards St Dunstan's Church
The following stops will not be in use for m1, m2 and 15 during these works:
Upper Parkstone Conservative club/Co-Op
Loch Road
Tennyson Buildings
Please use bus stops on Richmond Road, Bournemouth Road St Joseph's Church, or Branksome rail station. Buses will serve all bus stops along the diversion route. If waiting for an m1 on Richmond Road, be sure to check the destination to see which direction it is going!
7A, 7B and 7C will all revert to their usual routes as Richmond Road reopens, but note that the bus stops at Upper Parkstone Conservative club/Co-Op will be closed and alternative stops will be located the other side of the pedestrian crossing.
We apologise for any inconvenience caused.