Save 50% off dayriders - World Car Free Week
1 week ago Mon 13th Sep 2021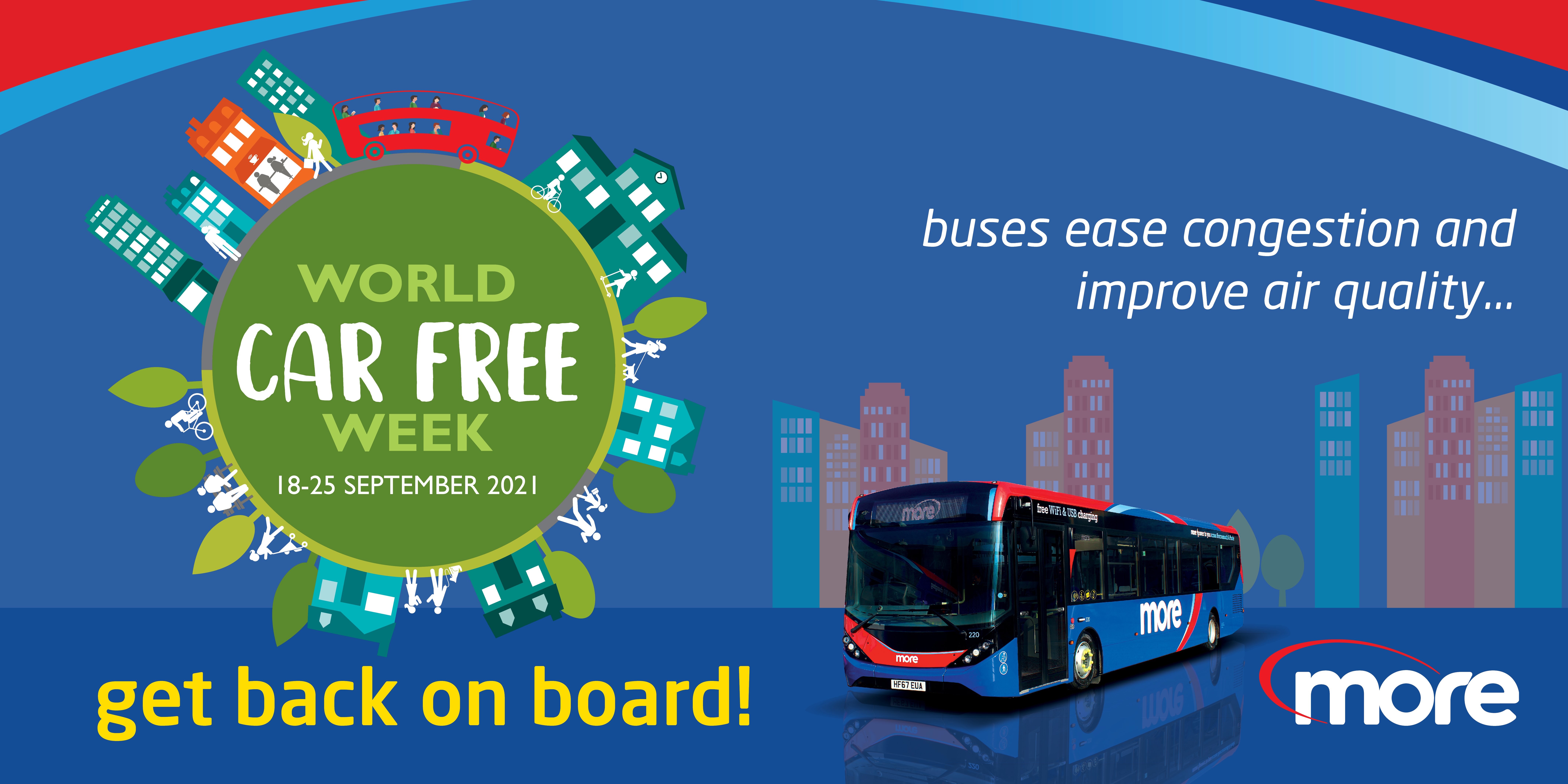 We are marking World Car Free Day - Wednesday 22 September - by offering half price travel for customers who are new to buying tickets on our mobile app during the week of 18-25 September inclusive.
We are committed to encouraging more people to use sustainable transport across the county, as Dorset begins to return to normal - post pandemic.
World Car Free Day is an initiative aimed at easing congestion, as well as improving air quality by promoting mass transit, cycling and walking to motorists as alternative methods of travel.
World Car Free Day ties in perfectly with what we are trying to achieve. Now that life is beginning to get back to normal, and people are returning to their offices, schools and colleges - in addition to the shops, bars and restaurants - buses can provide the perfect and affordable solution to reducing air pollution.
Here at morebus, we welcome any initiative designed to reduce the harmful effects exhaust emissions have on the environment. Our bus fleet is one of the newest and cleanest in the region. Over recent years, we have introduced a large number of brand new buses to operate our services across Dorset. Many of these sport the very latest Euro 6 engine - releasing fewer emissions than the average new diesel car.
Those travelling with us can now take advantage of our new app - which allows users to personalise the app to either save their regular journeys, choose how your home screen opens, mark bus stops or routes as your favourites, track exactly where your bus is at any given time and, of course, buy your tickets instantly. When planning a new journey, you can even see how much Co2 you are saving compared to driving a car.
Morebus is offering 50 percent off an adult Dayrider ticket for anyone travelling between 18th and 25th September, bought via our mobile app, and customers can also take advantage of 20 percent off a weekly ticket bought in the same way on the app. The offer is only open to customers who are new to the app and only 1 discounted ticket can be bought using the discount codes below:
For adult dayriders - use discount code CARFREEDAY
For adult weekly tickets - use discount code CARFREEWEEK
This offer is not transferable and only available for new customers on the mobile app. The offer is only available on adult dayrider tickets or adult weekly tickets, available in all fare zones. The discount codes will only work between 18-25 September 2021 inclusive. To use the discount codes, you need to set up an account in the mobile app, select the ticket on offer, and then enter the code at checkout to get the discount.