Don't miss our end of summer sale
4 weeks ago Tue 24th Aug 2021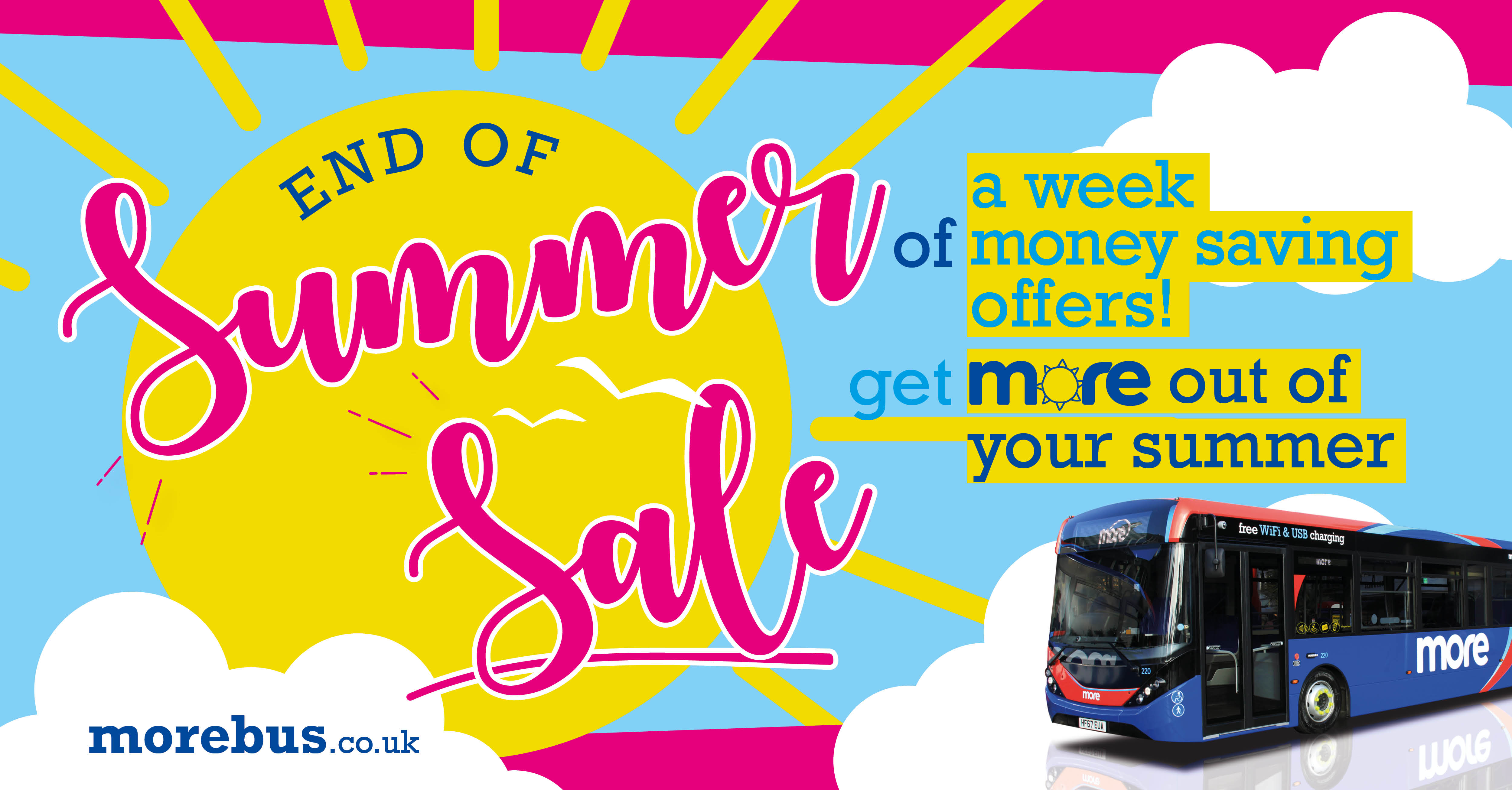 Summer is not over yet! We are delighted to offer some exclusive discount codes available to use in the morebus app only, which you can use to explore the best days out our wonderful local area has to offer this summer.
On Wednesday and Thursday, we are offering 25% off day tickets on our New Forest Tour which has three hop on, hop off routes, open top buses with grandstand views, and even an audio commentary so you can find out all about the magical New Forest.
On Friday, miss the queues and hop on a bus with friends or family to the Bournemouth fireworks with £1.50 off our group dayrider fare.
This weekend, we are offering £4.50 off our group dayrider tickets on our scenic Breezer buses. Take in the fantastic Isle of Purbeck and visit Corfe Castle, Wareham, Swanage or why not visit the Roads to Rail event taking place at Norden Farm this weekend.
If you need to get in to town and pick up those last minute back to school essentials, we are giving you 20% off dayriders for the whole family across all zones on Monday and Tuesday next week. Visit the shops in Castlepoint or Poole or Wimborne - the choice is yours!
To take advantage of these offers, go to the mobile tickets section in the app, you will be asked to either sign in or register, select the correct ticket and then type in the relevant discount code at the checkout. The discount will be applied and then make your payment via the app. Apart from the New Forest Tour, these tickets must be bought and used on the same day.
DATE OF OFFER
DISCOUNT
TERMS OF USE
CODE
Wednesday 25th and Thursday 26th
25% off adult, child and concessionary day tickets for New Forest Tour

purchases made on Wednesday 26th, Thursday 27th August via morebus app only. Tickets can be redeemed up until the Tour ends on Sunday 12th September. (up to 6 tickets can be purchased per account for children etc, but we recommend that each adult buys their own ticket so they can activate it on their own device)

AUG21
Friday 27th
£1.50 off Group dayrider tickets
valid to buy and use on Friday 27th August 2021 via morebus app only. £1.50 off a zone A group dayrider. 1 purchase per customer
FIRE150

Saturday 28th and Sunday 29th

£4.50 off group dayrider tickets
valid to buy and use on Saturday 28th August and Sunday 29th respectively via morebus app only. £4.50 off a zones ABC group dayrider. 1 purchase per customer.

BREEZERSATURDAY

BREEZERSUNDAY

Monday 31st and Tuesday 1st September
20% off adult and child dayrider tickets
valid to buy and use on Monday 30 and Tuesday 31 August after 9.30am respectively. Available for zones ABC child and adult dayriders. 4 purchases available per customer!
UNIFORM21
Each offer must be bought via the Morebus app on the day it is intended to be used. Don't have the app yet? Download it here and start saving!
Maps and timetables can be found on our website or plan your journey in the app.