Route and Timetable Changes from Saturday 28th May
1 month ago Thu 21st Apr 2022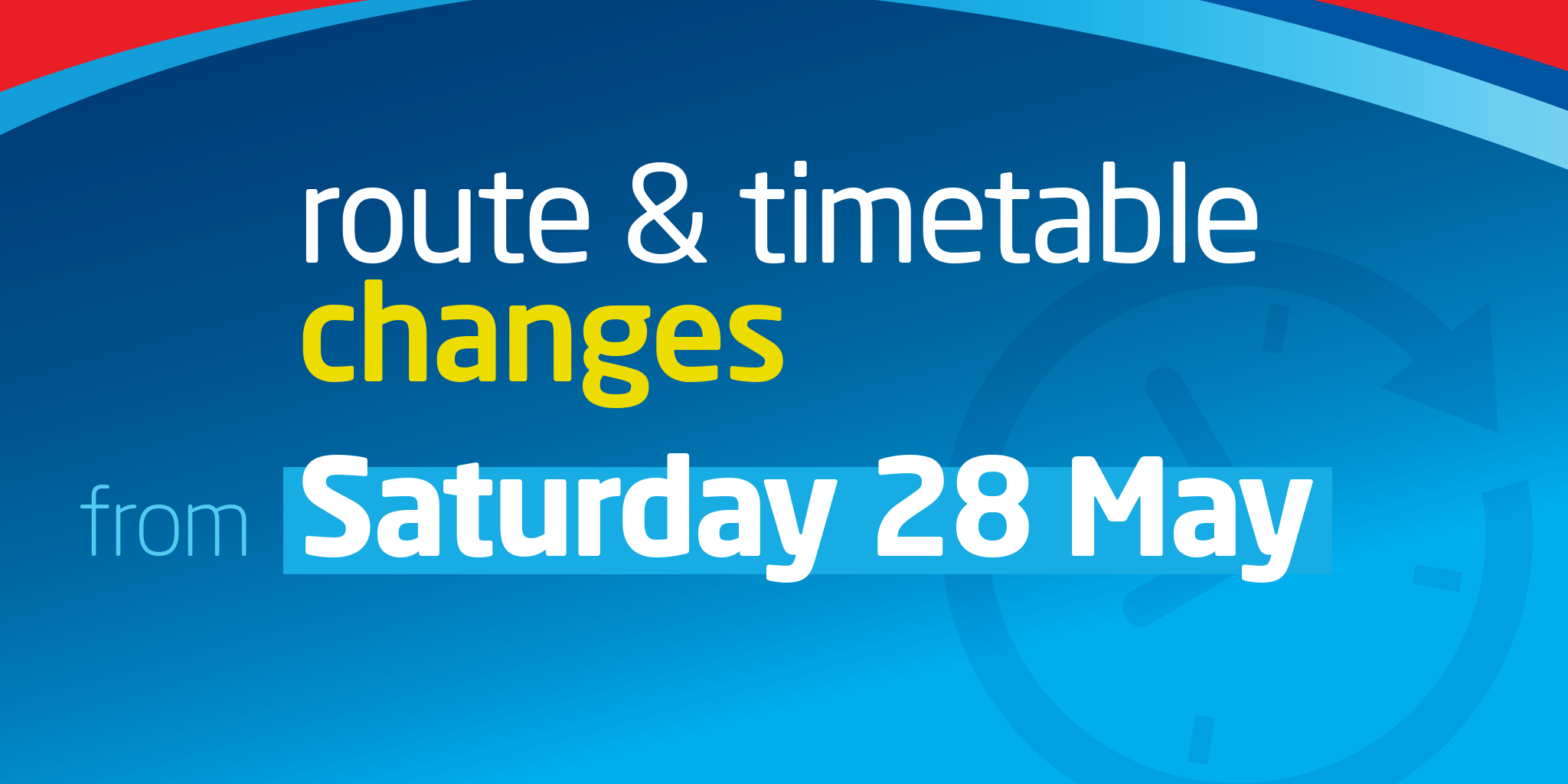 From Saturday 28th May, we launch our summer service change to accommodate for the busy and hopefully sunny season ahead. There's lots to see and do in our region so why not go exploring by bus this summer!
We have some fantastic news! Due to popular customer demand, we are pleased to announce the extension of the m1 to Royal Bournemouth Hospital.
There will be significant changes to routes 3 & 4 as we reflect the new levels of demand and reduce our costs of operation. Route 3 will run up to every 30 minutes at off-peak times, following the current 4 route from Poole to Broadstone where it will then run via Corfe Mullen to Wimborne. There will also still be two service 4s each hour running to Wimborne, via Merley. This means that there will still be a bus every 15 minutes off-peak via the current service 4 route between Poole and Broadstone, although there will no longer be any short 4s or any buses via the Broadstone Way.
At peak times, there will still be some faster journeys provided by new route 3X. This will go via Holes Bay Road, Willis Way, Fleetsbridge roundabout, Darbys Corner and Lower Blandford Road to Broadstone, then to Corfe Mullen and Wimborne. Meanwhile on the service 4 route at peak times there will be three buses per hour. Two of these each hour will continue to Merley and Wimborne while the other one will be a short 4 terminating at Broadstone.
Evening and Sunday services will not be changing, except that the Corfe Mullen journeys will use service number 3 rather than 4.
Sadly, the covid pandemic has accelerated the decline of Poole town centre as a destination for people, with a significant number of our customers travelling less to go shopping or working in retail. Prior to the pandemic, fewer people were using our network of routes within Poole due to changing travel habits. Like all businesses we need to act to match supply with the new levels of passenger demand whilst continuing to offer our high levels of service and value for money.
On routes 8 and 9, the Creekmoor, Fleetsbridge and Upton parts of the route carry fewer passengers than the Turlin Moor section of route, and therefore this section of route will operate every half an hour with journeys between Poole and Turlin Moor remaining at every 15 minutes.
Our popular summer Purbeck Breezer buses are back! The 30 & 31 are returning and ready to take you to the beautiful Lulworth Cove and Durdle Door. We are introducing a NEW 35 service to travel between Swanage and campsites in Wareham Forest.
The 40 has had its timings revised to improve reliability which includes additional evening journeys, and the 50 & 60 have increased frequency over the summer period. The 50 will no longer go down Holdenhurst Road, and will instead go to Lansdowne via Christchurch Road. The 70 is also returning and will now additionally serve Westbourne.
The Durlston Explorer (D5) will be running a shorter season this year, running daily from 23rd July to 3rd September.
We are also running a Park & Ride service from Kings Park to Boscombe Pier and Beach. The Beach Park & Ride is conveniently located by the AFC Bournemouth Football Stadium and costs just £5 to park all day. Buses leave every 15 minutes to Boscombe Pier and beach. Local fares are also available on the bus so everyone can use the service.
New timetable books will be available from the morebus travel shop and usual outlets in the near future.
Summary of changes
| | | |
| --- | --- | --- |
| Route | Change | Timetable |
| M1/M2 | The m1 has been extended to Royal Bournemouth Hospital, with subsequent timing changes to both m1 and m2 | View |
| 3/4 | The 3 will be withdrawn in its current format and will run up to every 30 minutes from Poole via Creekmoor, Hillbourne, Broadstone & Corfe Mullen to Wimborne. The 4 will run mostly every 30 minutes with timetable changes. Buses will still run up to every 15 minutes between Poole, Waterloo & Broadstone between routes 3 & 4 | |
| 3x | The NEW 3x will run from Wimborne via Corfe Mullen, Broadstone, Lower Blandford Road, Waterloo Road, Willis Way & Holes Bay Road to Poole. | View |
| 8/9 | Buses will still run up to every 15 minutes between Poole, Hamworthy & Turlin Moor with buses running beyond to Upton & Creekmoor every 30 minutes. | |
| 13 | The 13 will undergo reliability changes on all days, so please check your journey details. | View |
| Purbeck Breezer 30 | The 30 is being reintroduced for the summer season serving Swanage, Wareham, Wool, Lulworth and Weymouth. The Purbeck Breezer 30 also serves Wareham Station. | View |
| Purbeck Breezer 31 | The 31 is rerouted this season to link Wool Rail Station to Durdle Door and Lulworth Cove. | View |
| 32 | The 32 will undergo reliability changes | View |
| Purbeck Breezer 35 | The 35 is a new service linking Swanage, Corfe Castle, Wareham and Bere Road campsites. | View |
| Purbeck Breezer 40 | The 40 will have an enhanced summer evening timetable, and most journeys are slightly retimed to make them more reliable. | View |
| Purbeck Breezer 50 | The 50 will reintroduce a summer timetable to run every 30 minutes. | View |
| Purbeck Breezer 60 | The 60 will reintroduce a summer timetable to run every 30 minutes daily and there will be later evening journeys back to Rockley Park on Firework nights. | View |
| Purbeck Breezer 70 | The 70 will be reintroduced with minor changes and will additionally serve Westbourne | View |
| 898 | The 898 has minor retimings | View |
Take a look below for some minor changes on where to board at Poole Bus Station this summer.