Reduction in services from Sunday 24th January
1 month ago Tue 19th Jan 2021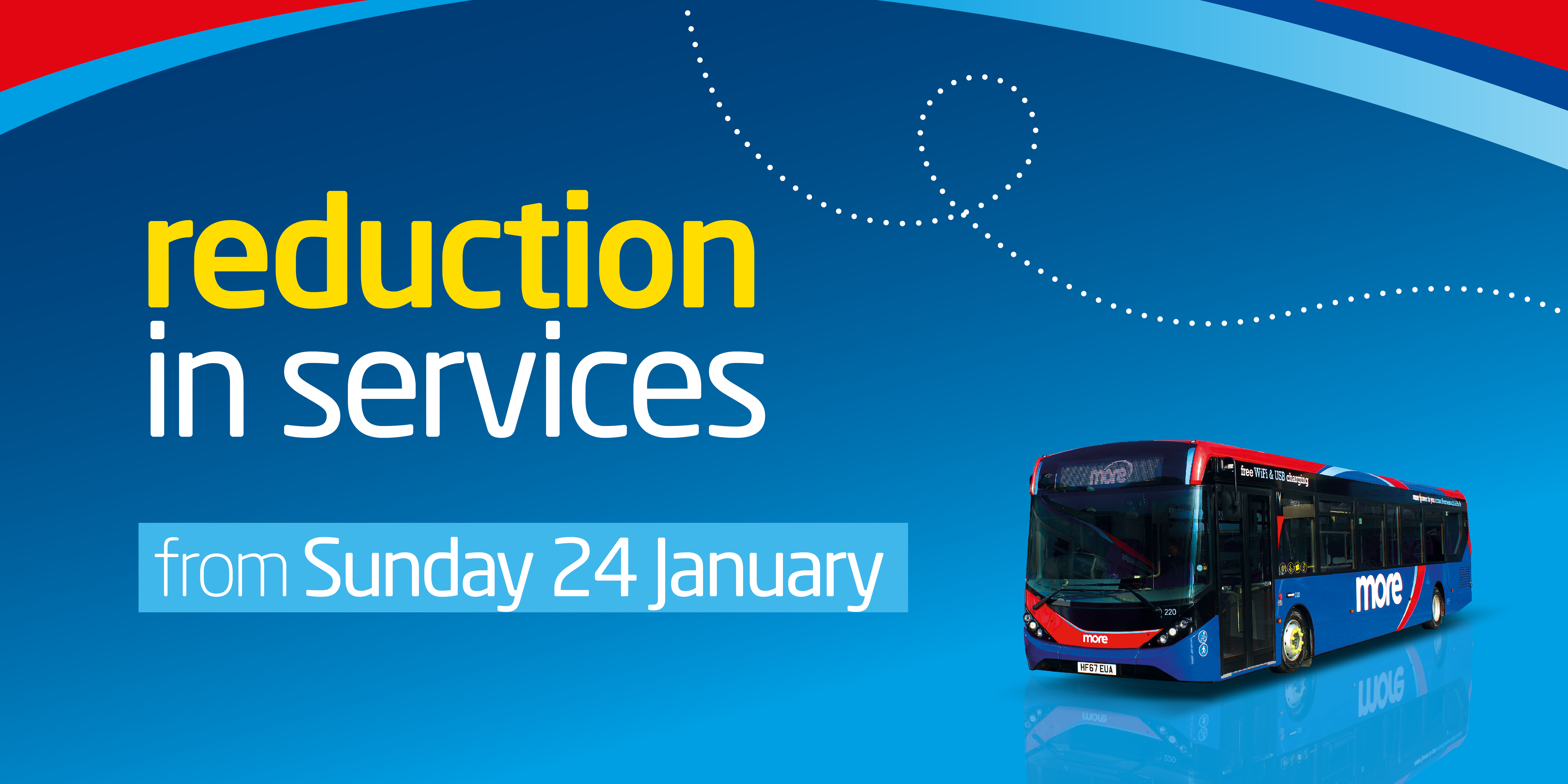 Due to the ongoing coronavirus situation and the restriction of movement, we will be adjusting some of our bus timetables from Sunday 24th January.
Routes that will be running to a revised timetable
Route
Summary of changes
Timetable
m1/m2
Minor reduction in frequency
View
RouteONE
Reduces in frequency from every 15 minutes to 30 minutes
View
3

Temporarily withdrawn

Please use Route 4 instead which runs via Corfe Mullen to Wimborne half hourly, and via Merley to Wimborne half hourly. Route 4 will still service Broadstone every 15 minutes

4

Revised timetable. This service will still run up to every 15 minutes between Poole and Broadstone, then continuing half hourly via Merley to Wimborne and half hourly via Corfe Mullen to Wimborne

View
5/6
Reduces in frequency from every 10 minutes to 15 minutes during the day
View
8/9

Revised timetable. Buses operating around the whole loop will be half hourly. There will also be extra buses between Poole and Turlin Moor via Hamworthy, so there will still be a bus up to every 15 minutes on that section

10
Reduces in frequency to every two hours
View
Purbeck Breezer 50
Reduces to every two hours on a Sunday
View
X3
This service will switch to a school holiday timetable, which means the bus at 0730 from Salisbury will leave at 0735 instead
View
X6

This service will run from Poole to Ringwood only and the bus at 0645 from Ringwood will run at the School Holiday time of 0707

Customers who are travelling to/from Bournemouth should change to the X3 at Ringwood or the 13 at Ferndown

View
112

Due to the temporary closure of the National Motor Museum at Beaulieu, buses are unable to serve this stop, and therefore will run directly to Beaulieu Garage instead. Buses towards Lymington are retimed to leave the village at 0928, 1054, 1309 & 1502 as a result.
Please note that any routes not listed will still be running to their current timetables. All other timetable information can be found on the Timetables & Maps page.
As always, please remember to adhere to government advice when travelling. Don't forget your face covering which is compulsory, unless you are exempt on medical grounds by law. To keep our drivers safe, please consider paying by contactless and our clickit2ride mobile app where you can instead of cash. Please remember to practice social distancing at all times. We also encourage customers to use our on board hand sanitisers, and to sit in the window seat when travelling.
We would like to thank all our customers for their patience during this time and commend our front-line colleagues who are all doing a fantastic job in difficult circumstances.